I spent a lot of time with death. My mother's Alzheimer's meant for upwards of  a decade I watched her die slowly, right in front of me.
And I still spend time with it. Thinking about dying with dignity and grace.
As David Bowie did.
Thinking about making the minutes of this life matter.
As David Bowie did.
Acknowledging that death is inevitable and getting on with it anyway.
As David Bowie did.
I ran across this the other day and I like it enough to share. Elizabeth Gilbert writing of David Bowie's death.
"How do you do that? How do you BE that? To work with your death so imaginatively, in order to perfectly time out the last beats of your life?"
Stunning in its truth. Living out loud, messy, sloppy, lyrical, beautiful in the way only we can choose. Death on our own terms, perfectly timing out the last beats of our lives.
I'm in.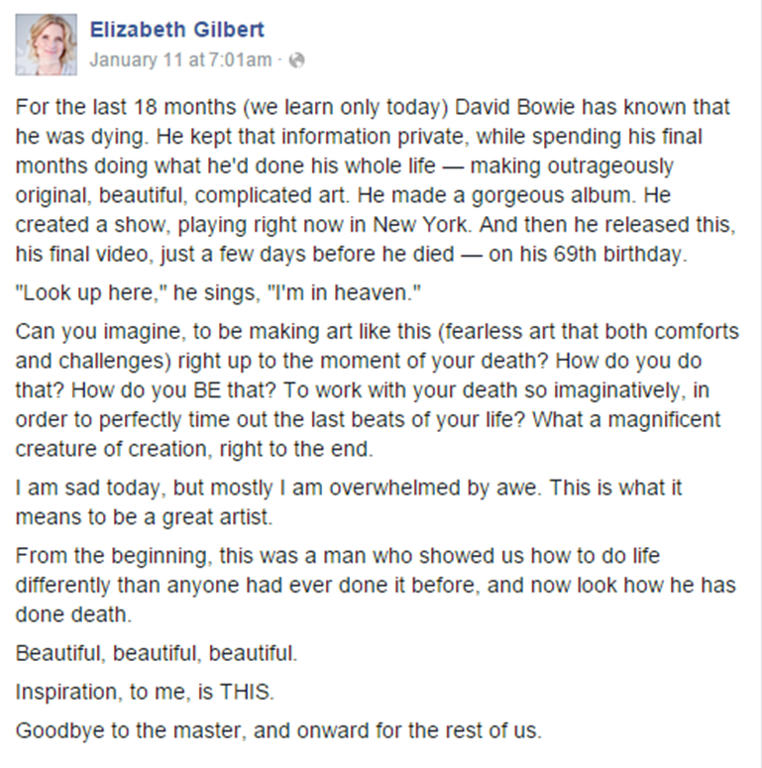 © copyright HeyAmyLou 2016 – All rights reserved