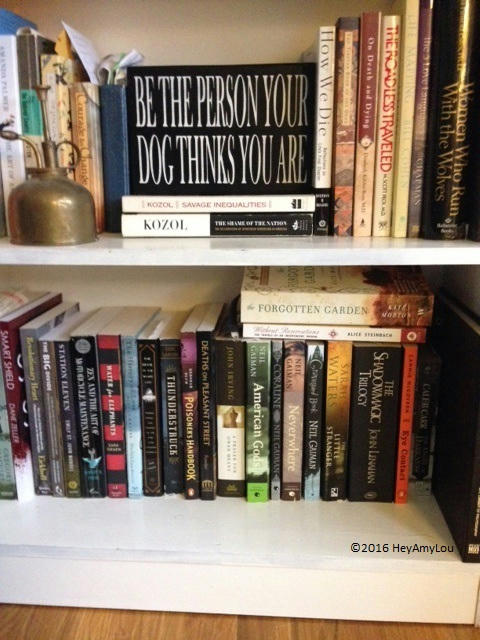 The proper term is obsession. I'm obsessed with books. My TBR list is upwards of 500 (that's a lie. The number is so, so much higher than that).
I majored in English in college. (with minors in graphic arts and French — go ahead, make the joke.) At the time, I read anything and everything, except Moby Dick. Apologies to Dr. ___________. And then I quit reading. I put myself on the career fast-track, made myself miserable, and continued down that path for a very long time with very few books to show for it.
Then my mother got sick. And there was a lot of waiting. Waiting in doctor's offices. Waiting in nursing homes. Waiting in attorney's offices. Waiting in courtrooms.  It's odd to say that a jackass disease brought me back to reading, but there it is.
Somewhere along the way I found book lists. Everyone has a book list, and I now read every one. Scouring for the next best book, or more likely the reminder that I've had a particular book on my TBR for far too long and I should just get to reading it.
These are my current favorite places to go for new books to read:
The Millions Most Anticipated 2016 Book Preview This list goes on for days. Heaven.
Huffington Post's 32 Books To Add To Your Shelf In 2016
The Wall Street Journal's Best Books of 2015
Ideas.TED.com Your Holiday Reading List: 58 Books Recommended By TED Speakers
And I would be remiss if I didn't inlcude my favorite all-time everything list, Fast Company's Monthly Your Creative Calendar, which always devotes a section to books.
Also, there's a budding addiction with bookstores, to the point that I'm thinking of creating a bookstore themed vacation — taking the Airstream of my dreams and pointing it towards bookstores like these.  Plus Atlantis Books in Greece, Shakespeare and Company in Paris, and Barter Books in England. Oh, and in Gladstone Library, Wales, you can actually stay the night. Yes please.
What did I say earlier? Obsession? Absolutely.
[UPDATE] Guess what I just learned. There are youtube channels devoted to book reviews!
© copyright HeyAmyLou 2016 – All rights reserved