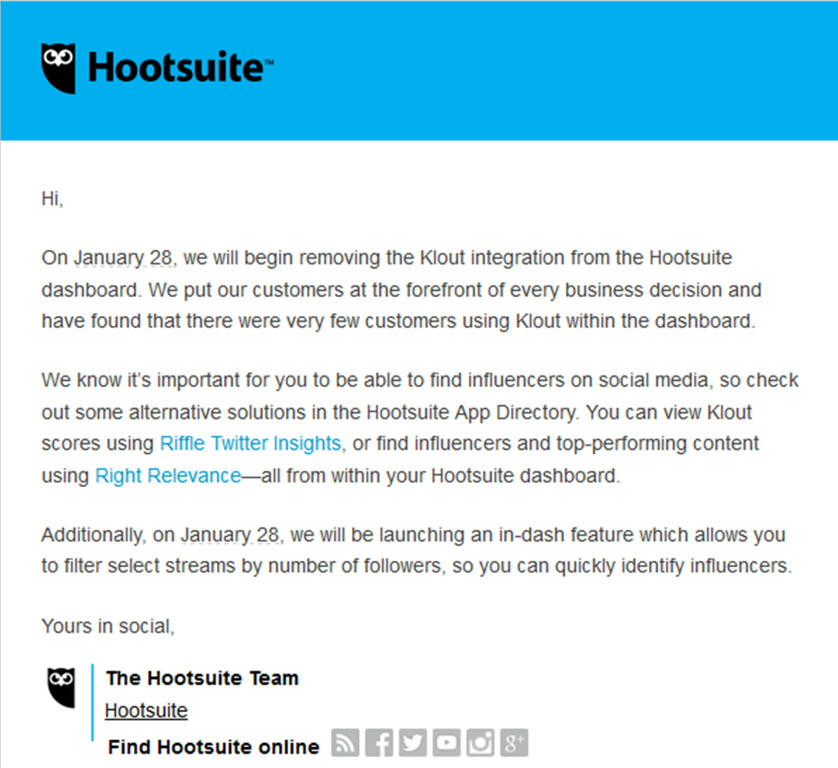 Yesterday, I received a lovely message from Hootsuite indicating they were removing Klout integration from their dashboard.
Vanity Metrics. That's what this is. An algorithm that allows a platform to determine social media "influencers." Usually measured by clicks, shares and other arbitrary online actions.
From Klout's Website:
The majority of the signals used to calculate the Klout Score are derived from combinations of attributes, such as the ratio of reactions you generate compared to the amount of content you share.
Attributes. Ratio. Reactions. All very sterile data easily manipulated by a third-party platform that doesn't know you and has no vested interest in your success. None.
It's the same with "likes" on Facebook pages. I'm regularly approached by potential clients whose main goal is to increase "likes" on their Facebook pages and friends on their Twitter, Periscope and Instagram feeds. To them it's all about the perception of numbers.
Here's my question: Do those high Klout scores cause more people to buy your latest book? Do those Facebook "likes" translate into tangible registrations for your next big event? Do your Twitter / Periscope / Instgram friends book you to shoot their next headshot package? A Klout Score of 95 "looks" good. A Facebook page with 5,000 likes "looks" good. An honest relationship with the 50 friends on  your Facebook page you truly know and authentically engage on a regular basis results in loyalty, revenue and referrals.
That's how to become at true influencer.
My advice? Stay away from Vanity metrics that tell you very little, if anything. Spend your precious time connecting with real people in real ways that produce real results, for you and for them. "Looking" good isn't everything.
© copyright HeyAmyLou 2016 – All rights reserved