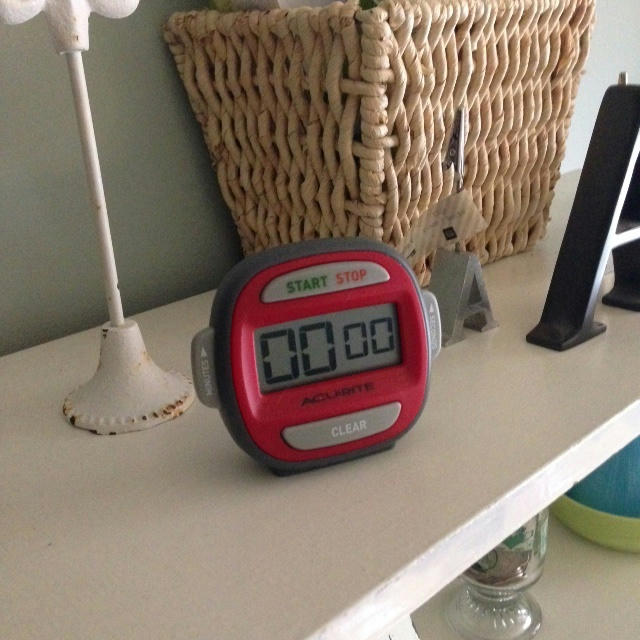 image © copyright HeyAmyLou 2016
AL is my timer. My most creative tool. Yep.  Setting a timer makes me infinitely creative. Seems counter-intuitive, doesn't it? Forcing creativity? Being creative only between the times of "x" and "y"? That's ridiculous.
Yes. That is ridiculous. Using a timer to get me through all of the minutia that crops  up throughout the day, giving myself set parameters in which to address it and forget it. That's not ridiculous.
30 minutes to go through my email inbox every morning.
30 minutes to file the wayward documents on my desktop each evening
1 hour Monday-Friday to listen to the podcasts and read the blogs I enjoy
A Power Hour* every Friday afternoon to tackle the things I keep putting off (contacting the attorney about the latest probate hitch, tackling that soon-to-be overwhelming pile of documents that must be shredded, to pay bills, to file receipts.)
All of this is set to a timer. All of the things mentioned above are important to keeping this ship sailing smoothly. They are also the very things that get in the way of creativity. Without a timer, 30 minutes of email becomes 2 hours of restructuring my inbox. 30 minutes of document filing becomes half a day of cleaning off my hard drive. 1 hour of podcast listening / blog reading becomes a whole day down a rabbit-hole. And without the Power Hour* every Friday, that shredding pile is soon taller than I am.
The timer reminds me. Not about the task at hand. About the infinite number of hours left in the day to create, to connect (truly, not via facebook or text), to stay present.  It's my most creative tool.
*Hat Tip to Gretchen Rubin My New Habit For Tackling Nagging Tasks: Power Hour and her podcast about it here.
© copyright HeyAmyLou 2016 – All rights reserved