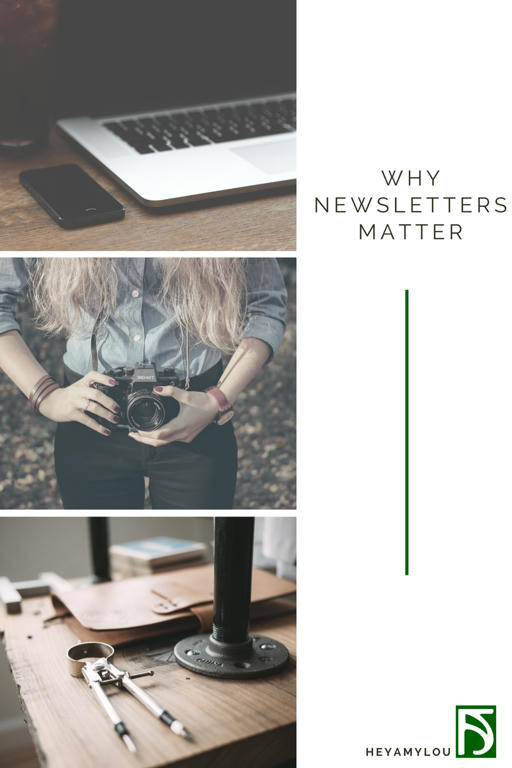 We just spent more time than most people would consider reasonable researching award-winning newsletters.
And after we write this post, we're probably going to hide the rest of today's to-do list in a drawer and conduct even more research (research should probably be in quotes here, because this certainly doesn't feel like work).
Want to see some award-winners?
Webby has you covered.  Here's 2016 and 2015, for starters.
There's more inspiration here and here, as well as here and here.  Mailchimp makes inspiration a part of their routine. Constant Contact does, too, although their inspiration isn't really that inspiring, ioho.
Let's back up, though. There's a lot of work that goes into actually designing an award winning newsletter. And, even if you're not out to win any awards, designing and managing a newsletter is lots of work.
Here at HeyAmyLou, these are some of the tools we use:
Mailchimp is our email marketing platform. It's user-friendly, fairly robust and cost-effective for most small businesses.
Canva for creating graphics, either with our own photography, or images supplied by Canva.
Creative Market and Death to Stock Photo for images.* When we don't have our own and Canva's just aren't doing it for us, we'll reach out to one of these three for commercial-use photos. Creative Market is priced by the image. Death to Stock Photo has a basic pack that's $15 a month and has a sizeable library.
Pictaculous and Paletton for color schemes.
We like Easel.ly for infographics, although Canva is a good option, too. We recently completed an infographic for a client's annual report depicting the different countries where her subscribers live.
From there, it's all about the marketing. That's what a newsletter is, right? Email marketing. It's all about branding, design responsiveness, effective communication, and compliance.
Newsletter design isn't for everyone and there's no shame in that. Chances are you went into business to do anything but design newsletters, right? And it's probably taking up more of your time than you want it to. Or worse yet, you've put off doing it simply because you know it's not something you want to spend time on.
Here's the thing, though. We wrote a post on the very fact that email is not dead. In fact, it's one of the best methods of generating revenue for your business when used correctly (as in, no spamming, quality call-to-action when applicable). Plus, unlike social, email marketing is still controlled by the user, not the platform. In other words, online friendships (Facebook, Snapchat, Instagram, Pinterest, all those platforms we're told will revolutionize our marketing) do not change the fundamentals of friendship. Or loyalty. Email marketing can, when used correctly, foster loyalty to a brand.
Hiring someone to design and manage your newsletter doesn't mean hiring someone to do the fun stuff:  picking colors, making infographics and writing the content for your newsletter, although a quality newsletter designer also works with your brand color scheme, designs infographics based on your content, and formats your content to fit the chosen design.
Hiring someone to design and manage your newsletter means  hiring someone to manage compliance, DMARC, mailing list maintenance (bounces, duplicates and unsubscribes) and deal with every glitchy design platform that never puts the text box/photo/headline/video were you want it, no matter how much time you spend trying.
Hiring someone to design and manage your newsletter means hiring someone who gives you back the time to do what it was you wanted to do when you went into business in the first place. The thing you do that doesn't feel like work. The thing you'd do for free if money weren't an option. Is that thing producing newsletters? For HeyAmyLou, it is
So, why not hire someone to design and manage your newsletter? What's stopping you?
*As with all content, always, always, always abide by the terms of service, and credit the work.
© copyright HeyAmyLou 2017 – All rights reserved