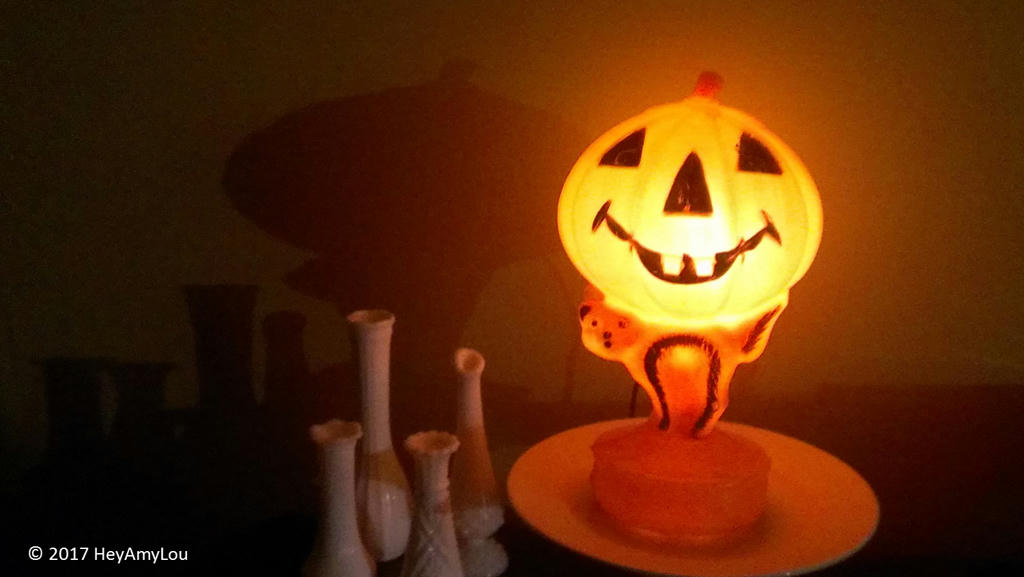 My all-time favorite Halloween decoration.
I love Halloween.
Last year we blatantly borrowed from Freeform's 13 Nights Of Halloween and created our own. It was so much fun we're making it a tradition. This year we added a couple of books and some TV episodes to our movie mix from last year.
Here's Our List for 2017:
Note: Harry Potter is our Thanksgiving movie marathon tradition.
Note 2: All of our choices are available thorough Hulu, Netflix, or the Public Library. 
If you're interested in creating your own 13 days of Halloween here are some ideas to get you started:
Movies
Here's a whole list of TV movies and marathons for Halloween 2017.  Turner Classic Movies does Halloween right.  Note to self: We might make next year's Halloween movie list all classic suspense movies . . . .
Another list that includes TCM and adds in the Hallmark Channel Halloween movies, too.
A good list of non-scary stop motion movies to watch is here.
TV Shows/Episodes
15 Best Halloween TV Episodes and another list here.
If you're into scary, here's a list.
ANY of the Doctor Who Weeping Angels episodes, Blink, The Time Of Angels / Flesh and Stone, The God Complex  and The Angels Take Manhattan.  Bonus, The Empty Child and Tooth and Claw are super scary, too.  The Empty child has one of my all time favorite Doctor Who lines, which will spoil things if I quote it here.
Books
Cozy Mystery Halloween book list, and here and here.
Modern Mrs. Darcy's list of spooky but not quite scary books is here.
A list of Halloween picture books, Common Sense Media's recommendations here, a YA list here, and several kids / YA lists mixed in here.
And, because Pinterest is the place for everything, here's a board with all kinds of Halloween cozy mystery suggestions (with some Autumn suggestions, too).
If you'd rather, and you have access to Freeform, here's their 2017 schedule.
© copyright HeyAmyLou 2017 – All rights reserved